Hit and Run
Hit and Run Attorney in Appleton, WI
In Wisconsin, hit and run accidents are an epidemic averaging 17,856 hit and run-related crashes and 2,736 related injuries from 2015 to 2020. Tusler Law serves Appleton, Oshkosh, Fox Valley, and the surrounding areas to give clients the compensation they deserve. If you or a loved one have been involved or injured in a hit-and-run accident, we have you covered and will work with you to get the best results possible.
FREE CONSULTATION
We do the work for you on Wisconsin hit and run cases
During your free case consultation, you will meet with us and tell us your side of the story, giving us valuable information to begin building a case for you. Tusler Law uses the information given to us and begins gathering more evidence by interviewing witnesses, checking police records, and following up on leads if the driver is unknown. We build the best possible strategy for your case and fight aggressively for your deserved compensation. Ronald W. Tusler is an award-winning attorney that prioritizes your time and has a no-win-no-fee policy. If you don't get paid, neither does Tusler.
Hit and Runs in Wisconsin
A hit and run occurs when a driver fails to stop and file a police report (or exchange insurance information) after getting in an accident with another vehicle.
After a crash in Wisconsin, all drivers must:
Stop their vehicle.
Provide a name, address, and registration to all other drivers.
Reasonably assist anyone who has been injured. This could involve calling an ambulance.
Report the accident to the police. Do agree with the other party to not fill out a police report. They could go around your back, fill out a report, and you could be charged with a hit and run.
What if I can't identify the car that hit me?
Often during a hit and run accident, the victims do not have an opportunity to identify the driver because of shock, injury, or lack of light. Write down all the information you can remember about the accident including time of day, car color, license plate, location, and any other relevant information. Go to the police with this information and they will work to locate the driver. Tusler Law also works for you to locate the driver by working with the police and interviewing witnesses to gather evidence for your case.
What to do when you experience a hit and run
Pull over. Don't Chase
Call the police and get medical assistance if necessary
Write down as much information you can remember as possible
Take pictures of the damage as evidence for the insurance company
Contact your insurance company
Call Tusler Law, Wisconsin's top hit and run accident law firm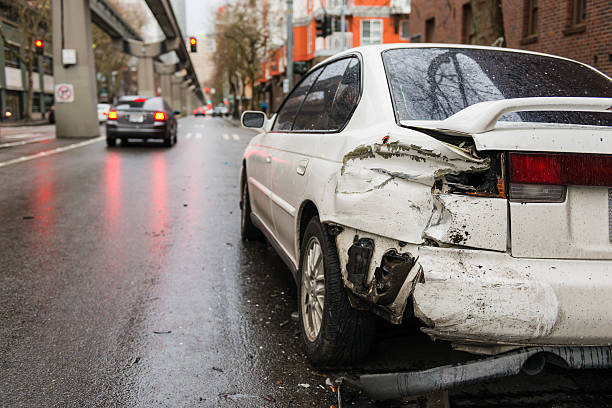 Hit and Run Penalties in Wisconsin
The penalties for a hit and run in Wisconsin depend on the circumstances of the accident.
No physical injuries to the victim, but the accident involves property damage: Fines up to $1,000, up to 90 days in jail, or both. The driver's license may also be suspended.

Injuries depending on amount of harm: penalties can include fines up to $50,000, imprisonment for up to 9 months, or both. The driver's license is likely to be suspended.

Accident involves a minor who suffers bodily harm: the penalties can be enhanced. It is considered a Class H felony, which carries a potential fine of up to $10,000, imprisonment for up to six years, or both.

Death: If your loved one died from a hit-and-run incident, the perpetrator will likely face a Class D felony and receive 25 years in prison for manslaughter and a fine of up to $100,000.

Repeat Offenses: If a person has previous convictions for hit and run offenses, the penalties may be more severe. Subsequent offenses can result in higher fines, longer jail sentences, and longer driver's license suspensions.
The actual penalties can vary depending on the specific circumstances and the discretion of the court. Contact an experienced Appleton hit and run accident law firm to make sure you receive maximum compensation for your physical and mental well-being.
Reasons Hit and Runs Occur
The motivations of hit and run accidents can differ based on the individuals involved. Common reasons individuals flee the scene:
Lack of Insurance
Lack of Valid License
Fear of Consequences
Intoxication or Impaired Judgment
Emotional State or Distress
Ignorance or Lack of Awareness
Prior Criminal History
Regardless of the reason, it is against the law to flee the scene of an accident, and doing so can result in severe repercussions.
Fight For Every Penny You Deserve
Hit and Run Frequently Asked Questions (FAQ)
Should I report a hit and run accident to the police?
Yes, it is important to contact the police. They can conduct an investigation, gather evidence, and try to locate the responsible party. This also helps establish an official record, which you may need for insurance claims or legal proceedings.
Will my insurance cover a hit and run accident?
Insurance coverage for hit and runs varies depending on the type of insurance policy you have and the specific terms and conditions.
What happens if I leave the scene but come back?
It is possible that you will still be charged with a hit and run.
What if my car was hit while being parked?
If your car was hit and you don't know who hit it, you should still file a police report. If the driver responsible for the incident is located by the police, you will have more options for seeking compensation for the damages.
Is a hit and run a felony in Wisconsin?
If the accident caused great bodily harm, the driver who left the scene could be charged with a Class E felony with up to $50,000 in fines and up to 15 years in prison.